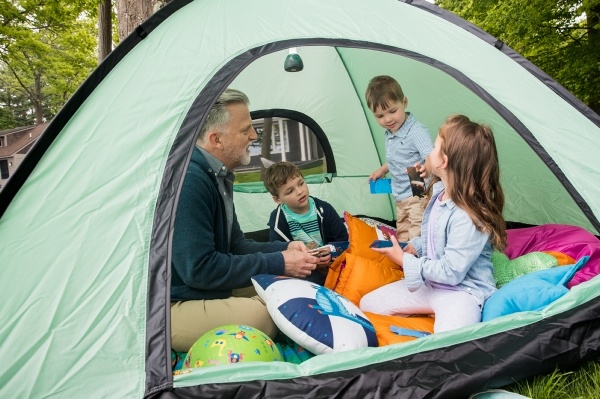 Nothing is better than the outdoors, and camping is a great way to enjoy the fresh air. If you don't want to pay camp fees and travel costs, you can set up camp in your own backyard.
Check out these tips on how to go camping in your own backyard.
1. Set up camp
Just as you would in the wild, choose a part of the yard that is flat and free of rocks and branches. Add a seating area with lawn chairs, cushions, or a blanket.
2. Pitch your tent
Work as a family if the children are old enough It is enough. Consider several tents if you are a large group. Make sure the tent pegs are well secured. Laces can be a stalking hazard in the dark, so tie some eye-catching ribbons to them to alert everyone. Make the sleeping area comfortable with a padding, air mattress, or even sofa cushions.
3. Gather your supplies
Do it early to avoid going inside too much. Remember things like insect repellent, sleeping bags, bedding, pillows, and lamps. Battery operated lanterns or glow sticks are also good options.
4. Plan your food in advance
Stick to non-perishable items or make sure you have a cooler large enough with ice or ice bags to store food safely. Consider grilling on the grill or in a fire pit. You can also pack sandwiches or even order pizza. (It's not original – but there are advantages to being at home.) Don't forget the snacks. If you're roasting food on a stick, prepare the grill sticks ahead of time so they don't wilt in the dark.
5. Build a safe fire pit or buy one early
If you don't want to spend time building a fire pit, you can buy one Before your adventure in the backyard at your local home or outdoor furniture store. But if you want to build your own fire pit, choose an area downwind and at least 15 feet from your tent and house. Wipe a 10-foot-wide circle and remove all flammable objects from the area. Dig a hole 12 inches deep and surround it with rocks. Use dry wood for a fire and keep a bucket of water and a shovel on hand. Keep children and pets a safe distance from the fire pit. And when extinguishing the fire, be sure to immerse it well in water and cover it with dirt to prevent embers from igniting.
6. Plan some fun and games
A scavenger hunt, a few rounds of cards or a game of croquet are all great family activities. You can also use crayons to take a nature scrub in your garden or press flowers and leaves into a scrapbook. Consider exploring your neighborhood, too. Go with a compass, map or GPS on your phone to trek routes or nearby areas you've never visited before.
7. Get ready for nightfall
Try stargazing, singing songs around a campfire, or telling ghost stories (don't make it too scary if you have young children). ). Stop making a bedtime schedule, especially if the kids are sharing tents. They will eventually sleep… and then you can too.
Do you need additional coverage for your belongings? Ask your agent if comprehensive insurance is something you should consider. It is an extra layer of protection for your assets in the event of a serious accident on your property.