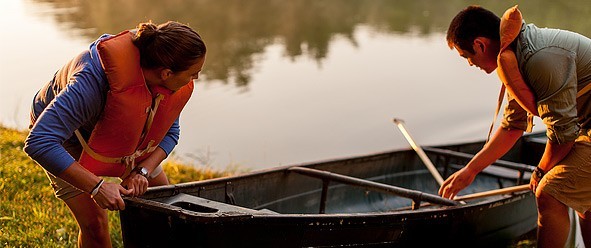 A marine adventure awaits you!
Have you always dreamed of buying your own boat? While it is a romantic and exciting idea, you need to understand the required investment of money and time in reality. Purchasing a used model can help reduce sticker shock. According to the National Marine Manufacturers Association, 60 percent of first-time boat buyers buy a used boat. Here are more considerations to keep in mind when exploring the market.
Define your intentions.
Looking for serenity on the water? So you might want a sailboat. But if it comes to a variety of leisure activities, the multi-purpose model will fit the bill better. Also consider the size of the typical party you expect to be joined (such as family and friends), and make an honest assessment of whether the model of boat you're considering would be roomy enough for both short trips and long trips. (And don't forget to make room for all the equipment you plan to bring on the plane.) Read manufacturers' recommendations for details on maximum weight and number of passengers.
Looking for a reputable dealer.
Yes, it is possible to get a perfectly used boat from a private seller via an online classified ad, but buying from a boat dealer who has the safest well-established reputation (you can search for it online), especially If the dealer offers a strong guarantee. The latter may come with a free service for a specified period of time. An honest and knowledgeable merchant knows his reputation (and his business) is on the line—something a private seller doesn't have to consider when selling you an old boat. Wondering how much you'll pay for a particular model? Check NADAguides for Boats , a comprehensive Blue Book-style resource providing specifications, research materials, and pricing information on boats.
Inspection exercise.
Any used boat will suffer some wear and tear. But do you need to know if your intended purchase has seen normal or unusual use? Start with the body and look for inconsistent or recently applied colored paint. Look for any damage that may have been caused by an accident. If there is any structure that looks different from the rest, ask about it. Look for any moss or other strange discoloration under or around fixtures. Then note if the metal has corroded. When checking the bulkhead, it must be secured with a laminate. If the fender is loose, this may be a sign of improper maintenance. Also, give the routing cables a traction to make sure they are also stable.
Engine Checklist.
If you're looking for a boat that doesn't require oars, remember: As with a car, the boat's engine drives performance. First: assess its cleanliness, because dirty may reveal negligence. Ask for any invoices and records for engine repairs. Rotate the fans manually to see if there is any twisting or vibration and any cuts or cracks. Start the engine and check for oil and fluid leaks around the gaskets. If possible, do a test on water.
There is much more than just the price of a boat. You should also consider insurance, fuel/oil, trailer, mooring fees, warehousing, repairs, lodging, weekend food, water sports equipment, fishing gear, licensing, permits, and maintenance. Then there's the time investment: boats can require a lot of repairs and cleaning—not to mention everything that goes into getting them ready for winter storage—to keep the ship in shape. If all the expenses seem prohibitive, explore the fractional ownership with a trusted friend or party to split the costs. The partnership will allow you to set specific weekends to go out on the water.