Motorcycle Storage Made Easy
With the onset of cold weather, you may have started to think about that dark day when you have to store your motorcycle for the winter. Months of inactivity is not good for your fuel systems, batteries, or even tires. If you can't keep your bike's tires off the ground, for example, you may develop flat spots by spring. To get ready for the big cold, consult our complete guide to getting your bike ready for winter.
Option 1: Weatherproof Covers
Don't have the space or cash to store your bike indoors? The Speed-Way MTS-GRY Sport Waterproof Cover is a lockable cover that unfolds over your bike. No tools required for assembly and it comes with drawstrings, vents and a storage bag. While not intended for extreme cold weather, the Nelson-Rigg Defender Deluxe Motorcycle Cover is a low-cost first layer of defense – water-repellent, with a windshield liner for scratch protection and a highly portable compression bag.
Option 2: The bike is in a bubble
Why just cover your bike, when you can shut it down completely? The concept is basically an inflated balloon around your bike. Maintained by a fan, the device keeps the air inside dry and filtered, while keeping dust and moisture out. The CarCapsule 8' Indoor Clear Inflatable Cover comes with an oil-resistant base mat and a fan that filters air and regulates temperature. Another option is the Carcoon Bike Bubble, available in transparent or colored versions. It also compresses air to keep a small biodome around your bike and has a battery backup in case the power goes out.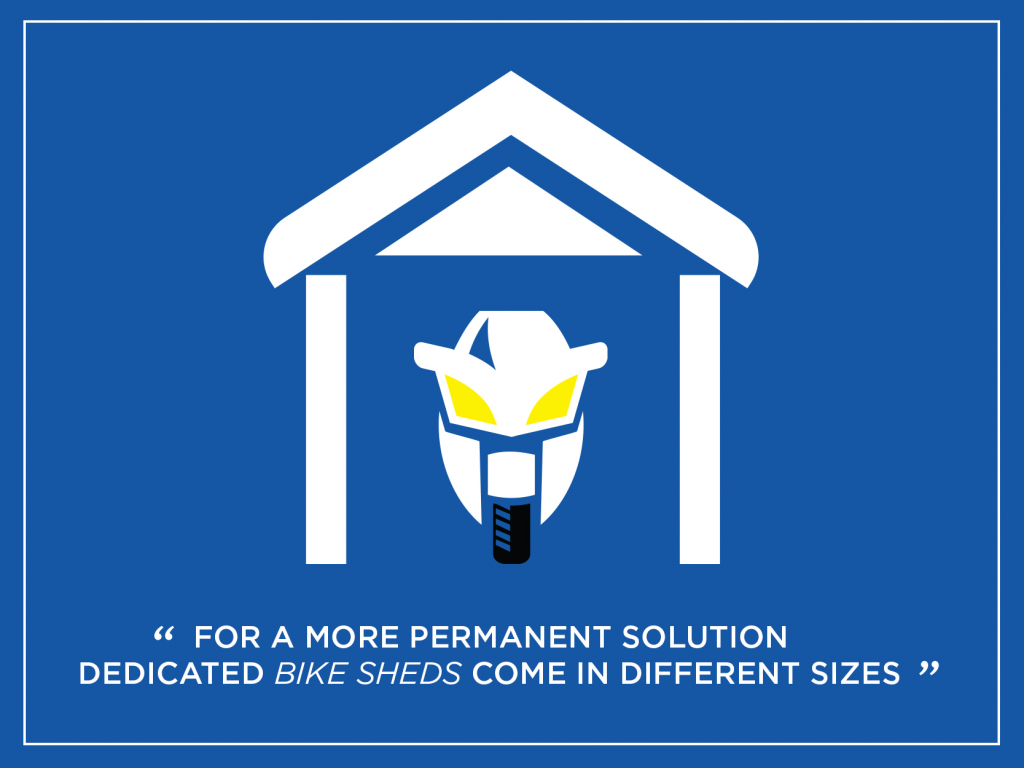 Option 3: Custom Sheds
For a permanent solution, come Bicycle sheds are of various sizes and usually require a flat concrete foundation. If you have more than one bike, consider taking advantage of the Lifetime 15″ x 8″ outdoor storage shed with shutters, windows, and skylights. Or, The Barnyard from a Pennsylvania/Maryland retailer of prefabricated Amish wood barns. If you'd prefer to be more discreet (and save some money), look into the Arrow Yardsaver 4' x 10' or this 159-foot large rubberized plastic outdoor storage shed.
Option 4: Garage Rentals
Your best option may be to store your motorcycle somewhere else entirely. Some motorcycle stores store your bike for the winter for a fee. The store may also offer (for a fee as well) additional services you may need – including getting your winter bike ready for use in the spring. Another solution is a self-storage company. National chains provide climate-controlled environments, 24-hour video surveillance, and gated access.
One way to protect your motorcycle is to take care of your motorcycle; Making sure you are covered on the road is another thing. From collision coverage to roadside assistance, Nationwide offers a full range of motorcycle insurance options that will help you get on with your ride.